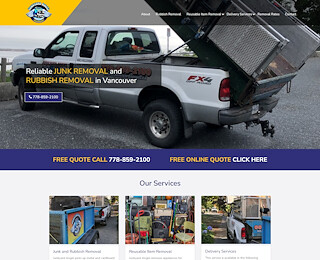 Looking for a company that provides cheap junk removal in the Vancouver area? Call Junkyard Angel, for all of your junk, rubbish and other unwanted item removals. 
If you have metal or cardboard that needs to be hauled away, Junkyard Angel will pick it up and deliver it to the appropriate recycling facility. Junkyard Angel also picks up tree and plant material from residential and commercial customers, then delivers it to the appropriate processing facility. Examples of tree and plant material are grass cuttings, branches, and tree parts. Cheap junk removal in Vancouver is only one call away- Junkyard Angel at 778-859-2100.
Junkyard Angel provides efficient, reliable and cheap junk removal and related services throughout all of Vancouver including the Lower Mainland. They will make every effort to divert material for reuse or recycling rather than sending it to your local landfill. You can feel great about getting rid of your junk when you call on the responsible experts at Junkyard Angel.
Junkyard Angel removes appliances for residential and commercial customers, using a Ford F-250 pickup truck with a dump box insert and sides (approximately five cubic yards). The service is reliable, efficient, and environmentally responsible. If your appliance can be reused, they'll be sure to find someone who wants it rather than sending it to landfill. Locals appreciate Junkyard Angel for their cheap junk removal services for Vancouver residents and business owners.
This service is available in the following municipalities: Vancouver, Richmond, Burnaby, New Westminster, North Vancouver, West Vancouver, Coquitlam, Port Coquitlam, Surrey, White Rock, and Port Moody.
Responsible disposal is another reason why hiring a junk removal service is better than cleaning up by yourself. With a professional junk removal company, you do not have to worry about waste and rubbish being dumped in another area where they can harm the environment. You can be sure that all the collected rubbish will be segregated, recycled, reused, donated, or buried in a landfill. Junkyard Angel provides cheap junk removal services throughout all of Vancouver, and they know how to safely and properly dispose of rubbish, so it will not harm you or the environment.
Recycling is an excellent service that Junkyard Angel brings to the table and is a real advantage to hiring a junk or rubbish removal company in Vancouver. Some of the things you may have lying around could still be useful, but it can take some time to segregate and separate them. Worse yet- you could come across some objects that hold sentimental value, resulting in your inability to ever get rid of them. Junkyard Angel will clear out your junk quickly before you have time to change your mind. If there are items that are still useful, they'll be sure to recycle or donate them.
Call the company that offers reliable and cheap junk removal throughout all of Vancouver. Junkyard Angel can be contacted by calling 778-859-2100. Call today and get your yard back!
Cheap Junk Removal Vancouver
We welcome your comments!