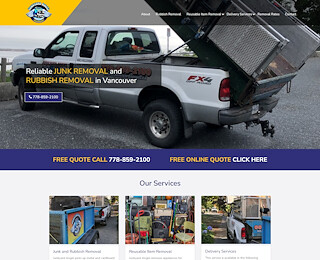 Junkyard Angel provides professional emergency junk removal throughout Vancouver and the Lower Mainland. Emergency junk removal services make sense when you need to clean up your property and get rid of all the rubbish quickly, safely, efficiently, and cost-effectively. 
Call on the reputable services of Junkyard Angel for emergency junk removal services in Vancouver, even after office hours. They can be convenient to work with when you do not have the time to deal with your junk on a weekday or in the daytime. You can book their service on a weekend, too, so there is never any excuse not to get your old junk cleared out.
Are you getting ready for a wedding reception or other party that requires your yard to look pristine? Chances are, you don't have time to deal with your accumulated junk. Let Junkyard Angel take care of the problem for you, with reliable services that are prompt and affordable. They'll have your yard looking neat and clean again in no time at all. Their emergency junk removal services are cost-effective and time-saving.
Hire emergency junk removal services from Junkyard Angel in Vancouver if you simply have too much junk- enough to overwhelm you if you tried to clean it up yourself. Going the DIY route is often a bad idea. You would have to deal with sorting your items and segregating them to see which ones can be donated, thrown into the landfill, reused, or recycled. To save time and to avoid the hassle, call an emergency junk removal company in Vancouver that residents and businesses call. Junkyard Angels will be there quickly to collect and separate the rubbish in their truck.
You're going to find that Junkyard Angel's services are affordable. Their removing rates by volume are as follows:
- Full load (approx. 5 cubic yards) $300
- 3/4 load $250
- 1/2 load $200
- 1/4 load $125
A surcharge may apply to volume loads for heavy material such as concrete, soil, and tile. For jobs involving extraordinary loading distance (e.g. more than 20 steps), a surcharge of $75 per hour for two men may apply. They also offer removal rates for single items:
- Mattress from $70 individually 
(add $20 for pocket coil), $30 each with load
- Boxspring from $70
- TV from $65
- Stove from $75
- Dryer from $75
- Washer from $75
- Fridge (Refrigerator) from $100
- Couch from $100
- Loveseat from $85
- Chair from $65
- And many other single items.
When you need your residential or commercial property cleared off fast, call the emergency junk removal company in Vancouver that clients have come to rely on for affordable, prompt service. Junkyard Angels will handle the situation for you in a timely manner while you tend to more important things.
Call Junkyard Angel at 778-859-2100 and forget about your unwanted junk. You'll never have to worry about it again! You can rest easy knowing that you've called the local, responsible company that will reuse, recycle and donate anything they can to keep it out of the landfill.
Emergency Junk Removal Vancouver
We welcome your comments!